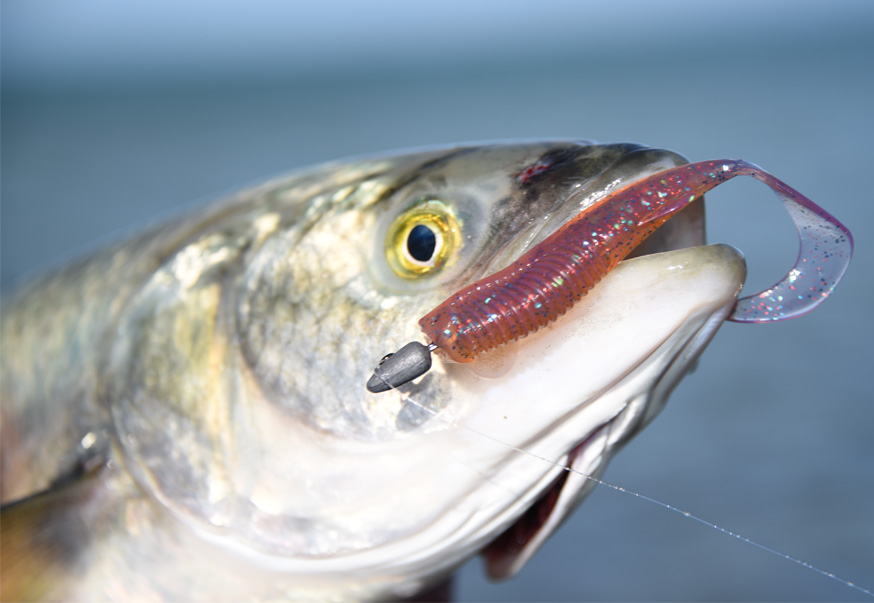 One of the easiest ways to tweak or fine tune your soft plastic lures is to alter their colours to suit prevailing conditions, to "match the hatch", or simply to satisfy your personal preferences. Here's how to do it…

One way to free up your choices in the colour selection department is to carry some form of marker pen collection, or a couple of fast-drying dyes, and to make and test colour modifications right there in the field. Most permanent marker pens will colour soft plastics, although it can be hard to add significant changes and variations to lures that originally have a dark-based colour scheme. Just as in house painting, it's much easier to put dark over light than vice versa. For this reason, anglers with an urge to try some on-water customization would do well to consider packing some white plastics or other light colours in their kit. These provide an ideal base for creative customization.

One drawback with most of the standard permanent marker pens you'll find on the shelves of your local newsagent or stationery supplier is the very strong, chemical odour of the ink or dye they dispense. I doubt that this smell is attractive to fish! Fortunately, there are some purpose-made lure marking pens and dip-able dye pots on the market that not only lack that acrid chemical whiff, but have actually been impregnated with odours that are claimed to be attractive to fish.

The best of these products that I've used to date come from the imported Spike-It range. These products include lure pens and fast-dying tubs of dye that are actually intended to bond with the molecular structure of most PVC-based soft plastics, and which are "flavoured" with a range of scents including garlic, shrimp and what the company describes as "gamefish". Over the years, I've had good results with all of these, on everything from Murray cod to mulloway.

Spike-It's lure pens are probably the most useful and versatile option. The dip-it tubs give a very strong colour that stays on the lure extra well, but you're obviously limited in the patterns you can create. Normally, you need to dip either the head or tail of the lure into the tub, and you'll end up with a distinct two-tone effect. However, this can be great for the tails or heads of shads and fish-shaped soft swim baits, for example.
Two words of warning about the dip tubs: Firstly, they can react badly with some makes of soft plastic and actually dissolve or eat away at the lures. So, always test one tail from a batch first and, if you're short of lures, make it an old, worn, ripped or otherwise damaged tail. (I'm pleased to report that Spike-It's Dip-N-Glo dye is perfectly compatible with the Squidgy softies that I have a close personal involvement with.)

Secondly, avoid spilling or knocking over an open bottle of this stuff! It will badly stain carpets, boat decks, clothing and the like and, if it's a scented variety, the odour will linger a long time. I spilt so much garlic scented Spike-It in one of my earlier boats while competing in bream and bass tournaments that the vessel's interior ended up smelling like a very old pizza delivery van!