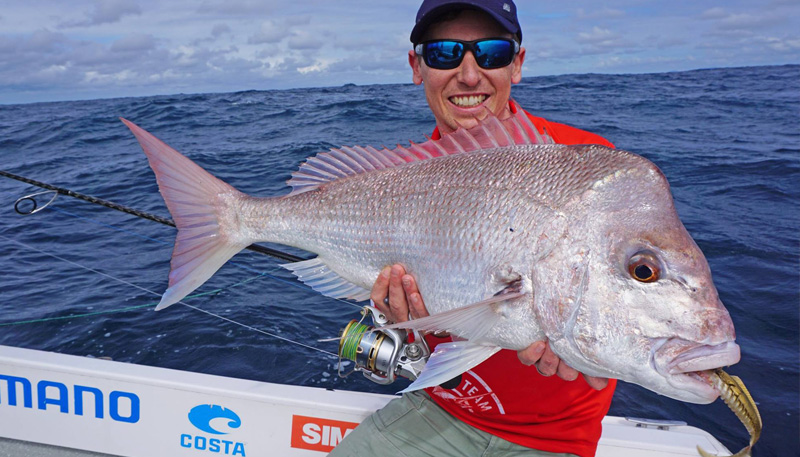 When drifting, try casting ahead (down-drift) of the boat and also simply spooling your Squidgies straight over the side and allowing them to sink. Both strategies work.
When it comes to the lures themselves, head weight and hook size are obviously dictated to a large extent by water depth (and fish size), but if there's a 'standard' snapper offering, it's an 80 to 120 mm soft stick-bait style plastic like one of our Flick Baits or Whip Baits on a 15 to 40 gram lead-head jig armed with a 2/0 to 6/0 hook. Thankfully, there's plenty of choice on offer in this style of jig head hardware on the Australian market today, in stark contrast to the situation less than a decade ago.
But don't just stick to our straight-bodied Flick and Whip Baits. Squidgies curly-tailed Wrigglers, Pro Prawns and Fish all work really well, and models from the new Squidgies Bio Tough range are smashing the snapper!
Experiment with colours. Some days the fish prefer natural hues (especially in clearer, shallower waters). Other days, bright colours seem best. Try them all!
The biggest secret is simply to get out there and give it a go. Start chucking or dropping Squidgies of the sort just described in places where you regularly catch reds on bait and, trust me, you will catch snapper on them! It's not rocket science. Conversely, if there are no catch-able snapper there, you won't catch any, regardless of what's on your hook. So don't give up after one blank session.
Trust me, the first time you feel that urgent tug on your line and load up against a head-bumping, hard-surging adversary while bouncing Squidgies over your favourite snapper patch it will be something of a revelation, and I guarantee it'll put a smile on your dial!