Squidgies are incredibly effective at fooling mulloway or jewfish. Here are the absolute basics you'll need to get started:

Squidgies plastics are highly effective when it comes to targeting mulloway or jewfish, whether it's in estuaries, bays, harbours, offshore or from our beaches and rock ledges. In fact, wherever jewies swim they'll respond to a well-presented Squidgy!
Some of the most productive tails in our range are the larger Squidgy Fish, Whip Baits and Wrigglers, the bigger Shads, our largest Pro Prawns, the pre-rigged Slick Rigs and Mongrels and, of course, our new Bio Tough Squidgies, especially in their larger sizes.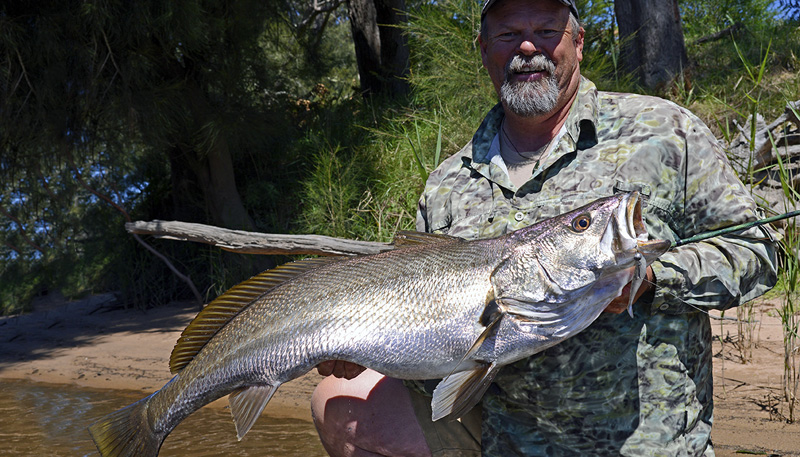 Favourite colours amongst more experienced and successful jewie hunters include natural baitfish imitations such as White Lightning, Black Gold, Pilly, Yakka, Bloodworm, Aussie Herring and Boof Bait. However, less natural-looking colours such as Drop Bear, Lime Lightning, Phosphorus and even Major Mitchell can all be highly productive at times as well, especially in low light conditions or discoloured water. (And yes, you can use Squidgies at night, too!)
When choosing jig head weights and sizes, pick heads sufficiently heavy to keep your offering down near the bottom in the prevailing depth and current, and with hook sizes from 2/0 to 6/0. Most jewies are hooked in the bottom third of the water column, although there are certainly exceptions, especially after dark. Oh, make sure the hook is strong enough to hold a big jewie, too!
For fish up to about 15 kg or so in estuary environments, a spinning outfit based on a 4000 or 5000-size Shimano threadline (spinning) reel and matching 2 to 2.2 metre spin rod is just about ideal. Main lines can run from 4 to 10kg rated breaking strain, and we strongly suggest using tough, reliable Power Pro Braid. Add a rod to a rod to a rod-and-a-half length of 10 to 20kg leader at the business end. Shimano Ocea FC is the perfect choice for leaders!
When chasing bigger mulloway or fishing in rougher conditions (such as off rock ledges and breakwalls) beef your tackle up accordingly. You may need to use 6000-size reels or larger, with 15 kg main lines and 20 kg leaders, or even heavier at times… And most importantly, always add a smear of S-Factor to your Squidgies when chasing mulloway, especially after sunset!