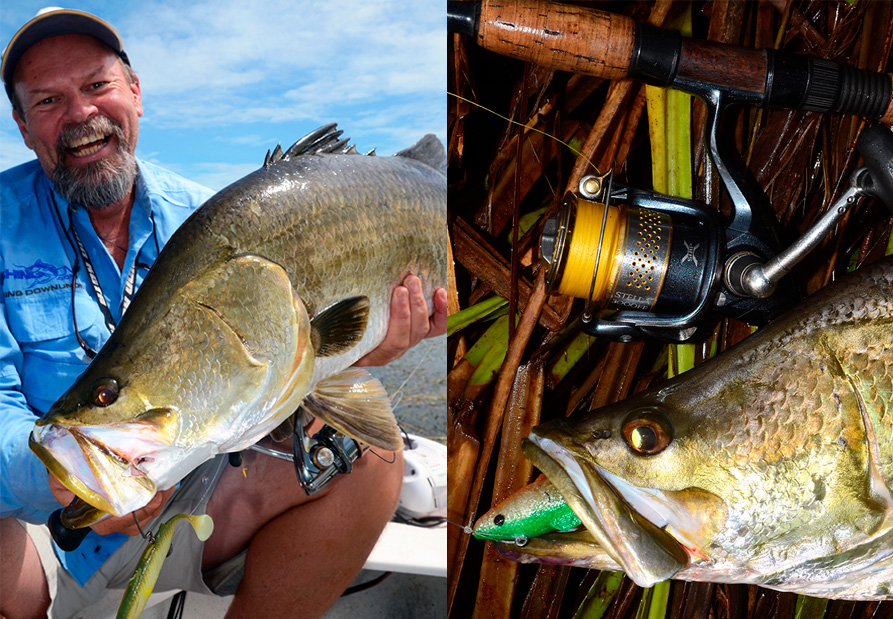 There's no question in my mind that these light tackle harbour masters catch more barra in Darwin Harbour, and do so with greater regularity, than anglers using more traditional lure fishing approaches and heavier tackle. Adopting their methods has greatly increased my own results when fishing on this sometimes-trying urban waterway. Never was this more noticeable than in March and April this year, when the harbour's barra, tarpon and salmon became totally fixated by the millions of tiny jelly prawns seething and flicking in every snake drain and gutter mouth. Towards the bottom of the tide, fish were often boofing everywhere, but casting a "standard" barra lure was little more than an exercise in frustration, and the live baiters were generally faring no better. However by switching to a Squidgy Bug soft plastic strung on a diminutive one gram Finesse Darter jig head fitted with a small but strong No. 4 hook, I was finally able to turn my fortunes around. The trick lay in making a fast cast just beyond the boil of a recent boof, then holding the rod tip high and cranking the spin reel at a steady medium pace to keep the lure in the top 30 centimetres of the water column. Hits were violent and fighting feisty 50 to 70 centimetre saltwater barra on bream gear in relatively open water is about as much fun as you can have!
Speading The Word
I can hear the questions now: "Okay, so it works in Darwin Harbour on 50 to 70 centimetre barra, but what about in other places? And what happens when a big girl jumps on that noodle gear?"

The last few dry seasons have been tough ones for barra fishers in the freshwater of the Top End's iconic Corroboree Billabong. Catch rates were low using all of the proven techniques and by August and September, even the gun guides were struggling to find their clients a couple of hook-ups a day. Interestingly, by down-sizing our tackle and giving our soft plastics the Jenny Craig weight loss treatment with a pair of scissors, we were able to go on taking anywhere between four and eight nice barra a day, along with a similar number of saratoga and a smattering of incidentals such as tarpon, sleepy cod, mouth almighty, long toms and the inevitable "powertails" (catfish). This might not sound like brilliant fishing, but trust me when I tell you that we were doing significantly better than almost anyone else on the water at the time, simply by using our bream gear and trimmed-down rubbers. It's a story I'm hearing more and more often, from Bowen to Broome and beyond.